RetailOps gives your managers and administrators the ability to quickly create new users.
Navigate to Administration > System Config > Users
At the bottom of the User pane, click on the [Add new user] button.
In the User Details pane, enter the user's Email and Full Name.
In the User Details pane, set the user's password in one of two ways:

Click on the [Set Password] button. Enter the desired Password. Confirm the password by re-entering it. Click the [Set] button.
Press the [Send Login Email] button. An email will be sent to the user to reset their password.

In the Access Control pane, assign at least one Role to the user by clicking on the Role (it will highlight in green). The Sample Nav pane offers a preview of menu options to which the user has access given their assigned Role. The Additional Privileges pane displays all the actions available to the user, highlighted in grey. (To learn more about Roles and Privileges, refer to this article - Set User Roles and Privileges
After creating new users, you may need to authorize their terminals as well. Refer to the article, Authorize Computers and Hardware.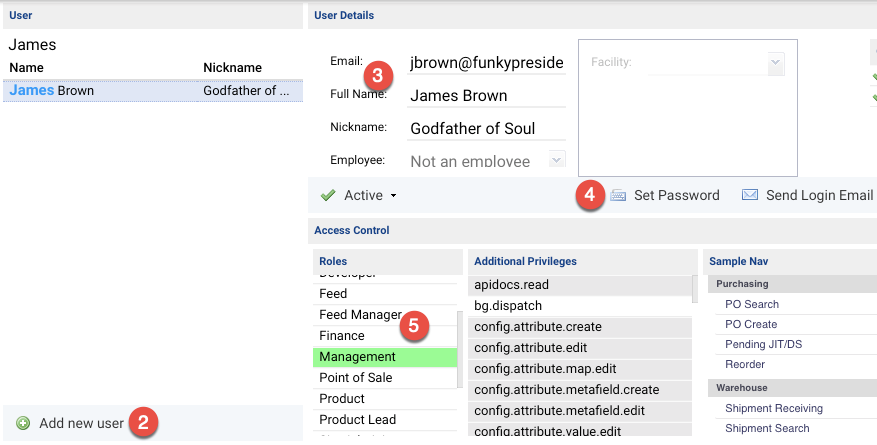 Other Options
In the User Details pane, you can enter a Nickname for the user. You can also set the Employee type (either Hourly or Salaried). If your company has multiple locations, you can also set the working Facility.
To give the user access to more actions, you can assign more than one Role to the user simply by clicking on other Role options. Alternatively, you can manually grant the user access to specific actions by finding and clicking on the actions in the Additional Privileges pane. Privileges granted manually will highlight in green.
For more info on user privileges, refer to the article, "Set User Roles and Privileges".