Set roles and privileges for different users to allow them to access the tools they need to perform their job duties.
In the Navigation menu, go to Administration > User Manager.

Select the user in the User pane.

In the Access Control pane, assign at least one Role to the user by clicking on the Role (it will highlight in green).

The Sample Nav pane offers a preview of menu options to which the user has access given their assigned Role.

The Additional Privileges pane displays all the actions available to the user, highlighted in grey.

To give the user access to more actions:

You can assign more than one Role to the user simply by clicking on additional Role options.

(5)You can also manually grant the user access to specific actions by finding and clicking on the actions in the Additional Privileges pane. Privileges granted manually will highlight in green.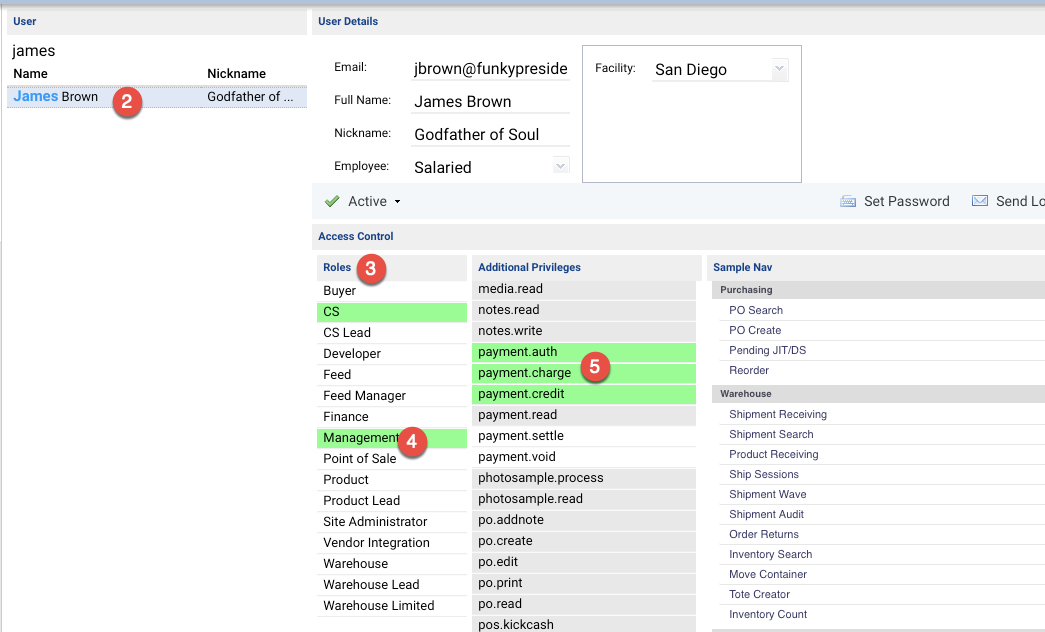 User Privilege History
The reporting tool now offers a "User Privilege History" datasource which details the all users permission history, and who granted them access. Review the following System Reports to access this information quickly:
User Privileges - Full History
User Privileges - Point in Time
User Privileges - Present
Roles and Default Privileges
Refer to the table below for a full list of default privileges granted to each Role. Jump to this article for a list of all privileges and what functionality each grants to the user.
General Function Terms
read - allows user to view only, no editing
create - allows creation within tools
edit - performs edit functions within data

Core Function Prefixes

config (configuration)
- Attributes
- Brand Editor
- Device Register (Manage Terminals)
- Feed Manager
cust (Customer Service Manager)
- Order Managing
- Issuing Store Credit
- Customer Information
device
- Test Printing
- Scale Weights
fulfillment
- Shipment Wave
inventory
- Container Creation/Move
- Lot Printing/Voiding
- Receiving Inventory
invtransfer (Inventory Transfer)
- Inventory Moves
media
- Bulk Media and Product Family/SKU Media upload
- Viewing Media within RetailOps
notes
- Note creation and editing
payment (inside of Customer Service Manager)
- Authorizations
- Settlements
- Void
photosample
- Photo Sample Tool
po (Purchase Order)
- Create Purchase Order
- Search/View Purchase Orders
product
- Product Management Tool (PMT)
- Advanced Product Editor (APE)
- Search Product Tool
rcvprod (Receive Product)
- Receiving Tool
rcvship (Receive Shipments)
- Log a Shipment
- Shipment Search