This article details how to resolve system alerts. For a list of system alerts and their definitions, read this help article.
Resolve/Retry Individual Alerts
You may resolve/retry individual system alerts either from the System Alerts view or from the event log of the appropriate RO tool (e.g. if there's a system alert for a customer order, you may resolve the alert from the Order Detail screen). If you look below, you can resolve the same alert from either screen.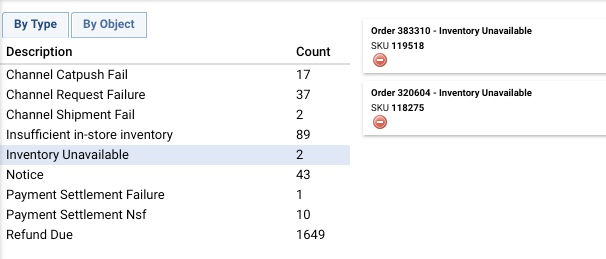 Resolve/Retry Alerts in Bulk
If you'd like to resolve/retry alerts in bulk, you must do so from the System Alerts view.
Press the [System Alerts] button at the top-right corner of the screen.
If viewing alerts By Type, select a type from the left-hand menu. If viewing alerts By Object, select the desired object.
Select an alert from the right-hand menu. Then hold the SHIFT key and click on another alert to select multiple alerts at once.
In the Bulk Resolution pane in the bottom-left, press the appropriate [Retry] or [Resolve] button.