The reporting tool offers a "History" function which allows you to see the history of a report formula, as well as the download history of a report. This can be especially helpful if another user makes an unintentional edit to a report, or if you'd like to revert to an older report formula.
View Historical Report Formulas
In the Reporting Tool, select the report you would like to view.
Select the [History] button located in the upper right of the report menu. The Version History menu will slide out from the right.
In the Version History menu, you will see all saved versions of the report. A version is entered into this list when a user selects [Save] in a report. The report which is highlighted in blue is the version you are presently viewing in the tool. If you select another report version, the cell will highlight blue, and the report formula will update in the tool.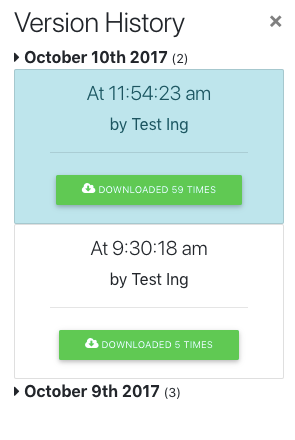 Revert to historical report version
To revert to a previous report formula version, open the desired historical report version from the "Version History" menu, and make any desired edits. When you're happy with the report formula you've selected, enter a new name for the report in the Report Name field, and select [Save As]. This will create a new copy of the report using the historical report formula.
View Report Download History
Selecting the green download history button (1) will show a download history for each report version. This will show the name of the user that downloaded the report (2), as well as the date and filename.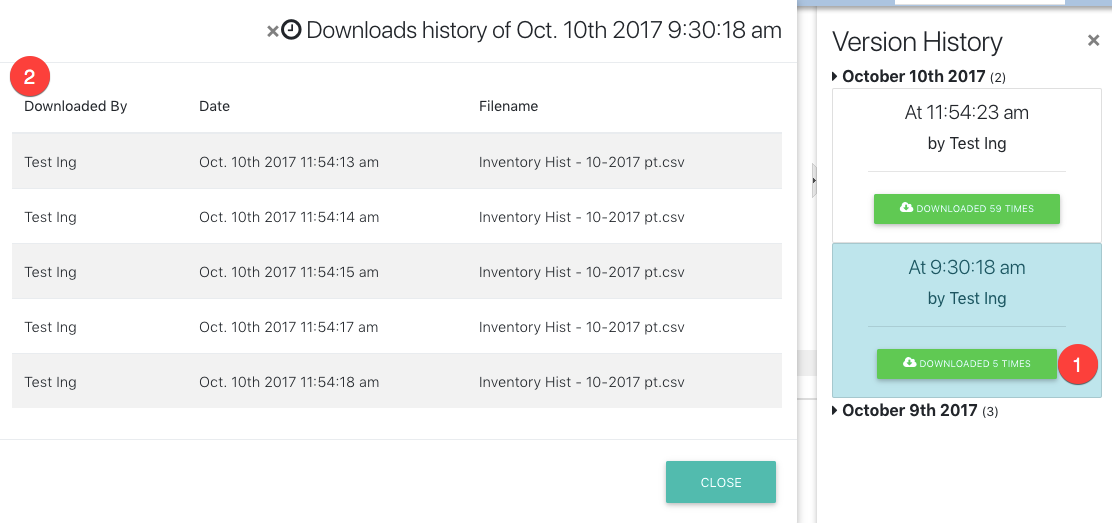 Known issue- When viewing the Download History, this list presently does not scroll.