What is a Virtual SKU?
A Virtual SKU is an item in your catalog which does not need to be physically fulfilled, and does not need inventory tracking. Using a Virtual SKU however, will allow you to track sales of this item in the Reporting Tool. Some uses of this SKU type include magazine subscriptions, gift wrapping fees, and other services for your customers.
These SKUs do not need to have inventory, and operate with an inventory level of 0. Virtual SKUs do not transmit catalog data at this time. These SKUs are used to record the sale of an intangible good or service from an order imported from your website or sales channel. Virtual SKUs are automatically marked as "Fulfilled" when the order is imported.
How do I create a Virtual SKU?
1. Open or create the product you'd like to add the virtual SKU to.
2. Show the "SKU type" column by selecting the dropdown menu next to "MPN" (1), select Columns (2) > Type (3)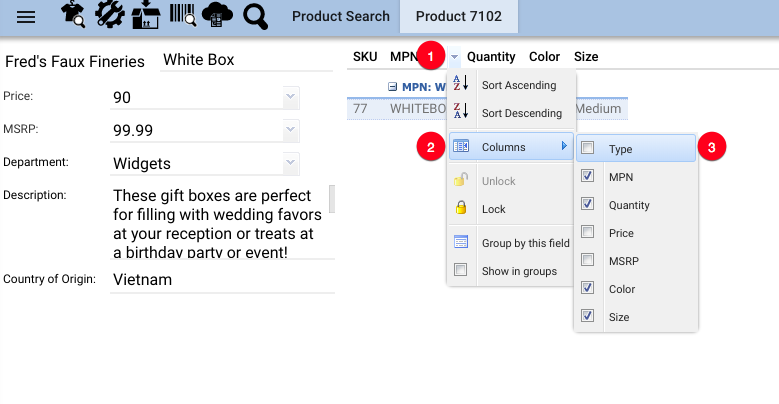 3. Select the green plus sign from the bottom toolbar to add a new SKU to the product family. New SKUs will always default to SKU type "Standard". To learn more about SKU types, check out this article: Summary of SKU types

4. Select the "Type" for your selected SKU, and select "Virtual" from the dropdown menu.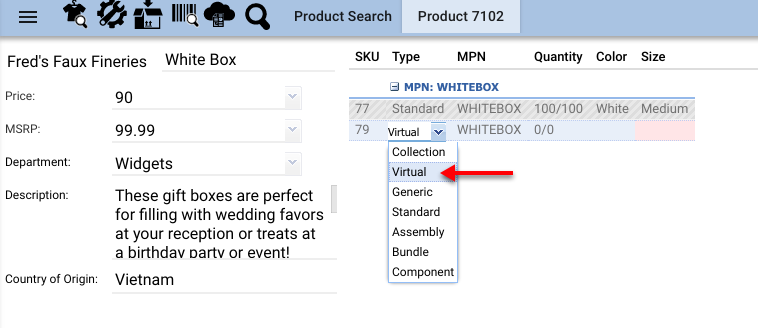 Your virtual SKU is now ready to record sales. Your RetailOps Virtual SKU will need to match the SKU you are importing from your sales channel in order to record sales against it, and automatically mark the item as fulfilled.
If you need to renumber your SKU in order to match your channel catalog, do the following:
1. Ensure your account has the following System Config option enabled: "Allow Renumbering of SKUs".
2. In the lower toolbar, select the lock icon once.

3. Hold the [SHIFT] key on your keyboard, and click on the SKU number. In the screenshot above, you would click on the "79". The SKU box will now become editable, and you may modify the SKU to another value, as long as it does not duplicate a SKU which already exists in your catalog.
4. Once you've edited the SKU, click out of the field, and refresh the page.