The left navigation menu in RetailOps offers many different modules and tools to keep your business running smoothly. Select the star icon to add the tool to your personal shortcuts menu, use the "Filter Tools" search bar to quickly locate a tool, or hover over a tool to see the Keyboard Shortcuts. Below, you'll find a brief description of each option in the main left navigation menu.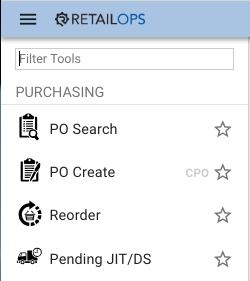 Purchasing
PO Search – Search, view, submit, or download purchase orders in any status
PO Create – Create a new purchase order
Reorder – Automatically create "Reorder" purchase orders by utilizing sales data and recommended reorder quantities
Pending JIT/DS – Review your outstanding JIT (just in time) and Dropship purchase orders, cancel or resend them to vendors as necessary
Warehouse
Shipment Receiving – Log the arrival of large shipments which may not be received immediately
Shipment Search – Search for shipments which were logged using the "Shipment Receiving" tool
Product Receiving – Receive new units of inventory
Ship Sessions – Manage your shipping sessions to set current or future shipping carrier pickup dates
Shipment Wave – Create groups of shipments to be fulfilled. Customize your shipment waves to fit your warehouse layout and team size
Shipment Audit ­– Pack and ship your orders quickly and efficiently. Optional mouse free workflow to allow your team to work quickly
Order Returns – Process returns from your customers while recording the reason for the return, and handle any special returns/refunds
Inventory Search – Search for inventory in your warehouse by lot, SKU, location, and more. You can also view inventory from multiple warehouses with this tool
Move Container – Quickly move totes between locations from the web app. You can also move totes using the "Rapid Move" tool in the handheld application
Tote Creator – Quickly create new totes
Inventory Count – Keep your warehouse running smoothly by periodically performing Inventory Counts. You can run one large count of the full warehouse, or perform incremental counts throughout the year
Print Labels – Quickly and easily reprint lot labels or hook labels for point of sale, or standard lot labels for your warehouse
Product
Product Search – Search for any product in your catalog by brand, name, or any other attribute. You can view the product data and get an at-a-glance view of your inventory as well
Media Upload – For customers using the Photo Console tool, use the media upload tool to upload media in bulk. Media can also be uploaded directly to products, through the data import tool, or through our API
Photo Samples - As part of a specialized workflow, you may add newly received products to a queue to be photographed. The photo samples tool allows you to view this queue, and transfer inventory to your Photography location
Advanced Product Edit – Use the Advanced Product Editor for complex product changes- attribute values between products, moving lots, combining multiple products, etc
Inventory Transfer Tool --The Inventory Transfer Tool is enables users to transfer large inventory in bulk quantity by creating their own transfer batches. This can also be done to move inventory from one facility to another.
Customer Service
Search – Search for customer records or order information. View customer orders, make adjustments, or create new orders from the customer's record
POS – The Point of Sale tool allows you to sell products in person. The web app is full featured and ideal for physical stores, while the iOS POS tool is great for pop-ups, festivals, fairs, and more
Tray Reports – View and report on cash accepted using the Point of Sale tool
Information
Dashboard – This link will take you back to the main RetailOps Dashboard to view your current stats
Wallboard – The wallboard is a modified dashboard that can be left displayed on a TV or monitor for instant visibility into your operations
Administration
System Config – System Config contains 20 sub-modules for managing your account. Manage your main account settings, users, shipping accounts, channels, and more
My Terminal Prefs – Each workstation may have unique printer and hardware settings. Use this tool to select your scale, label printers, receipt printers, etc
Data Import – This tool allows users to upload bulk file updates directly through the RetailOps interface. Create new products, change attributes, upload tracking information, and much more
Reporting – The Reporting tool offers robust prebuilt reports, and the ability to create your own custom reports for the best visibility into your business