Facility/Zone Management
The RetailOps System Config tool allows users to create and update their own facilities. Your facility is a physical place, and a zone is a section within that facility.
In the System Config tool, select "Facility / Zone" from the left hand navigation bar. If you already have facilities configured in RetailOps, you will see them here.
Each facility will have a name, timezone designation, and "Turnaround Days" setting.
The green arrow shown next to the facility name indicates that the facility is active. You can disable facilities by toggling the green checkmark to a red X. To show inactive facilities, select "Show Inactive" at the bottom of the frame.
The "Turnaround Days" setting indicates the approximate time for an order to leave the facility once imported. This setting is used for Cost Based Routing calculations.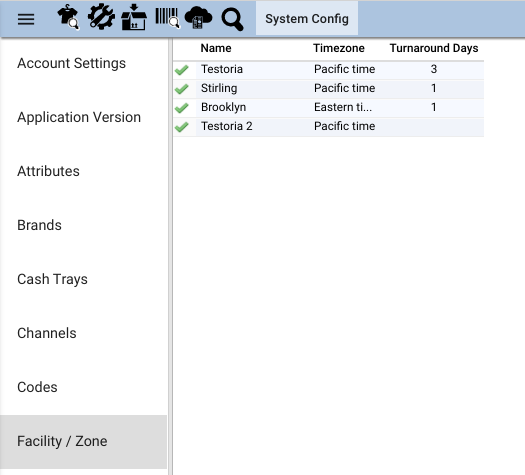 Facility address and Zones
When you select one of the facilities from the list above, you will see the facility billing and shipping addresses, zones, and zone specific settings. To modify either address, select the pencil icon in the address section. Under "Facility Zones", you will find the following settings:
Fulfillment Priority
Count After Fallback
POS Fallback Zones
Printer

Facility Creation
To create a new facility, select the "Add Facility" button in the lower left hand side of the Facility/Zone tool. Minimum requirements for the new facility are:
Facility name
Time Zone
Mailing and billing address
Default zone
Zone Creation
Once you've created your facility as described above, you'll need to add at least one default zone. To add a new zone, select your desired facility from the left hand panel of the Facility/Zone tool, and select "Add Zone" at the bottom of the window. Minimum requirements for the new zone are:
Other optional fields for Zones:
Fulfillment Priority - If you would like RetailOps to prefer fulfillment from one zone over the other, you may indicate this here. The default value is "1" for highest priority, subsequent values should be sequential- 2, 3, 4, etc.
Count After Fallback - When the "POS Fallback Zone" function is used, the containers used for the fallback function will be added to an inventory count.
POS Fallback Zones - When using the Point of Sale tool, you may find you've sold an item which is not logically present in the same zone as the Point of Sale. When this occurs, no inventory will be deducted, and a System Alert will alert your users to this situation. The Fallback Zone allows you to select a zone from your facility which will attempt this inventory deduction if no inventory was available in the POS zone at the time of sale.
Split Pick - This checkbox allows for pick lists to be split by zone on a facility by facility basis.
Printer - This is used to designate a printer when using "Zone Printing"
Once you've created your new facility and zones, you can create new containers for this facility/zone in the Container Manager tool.
"